Alternative Fuel Vehicles from Toyota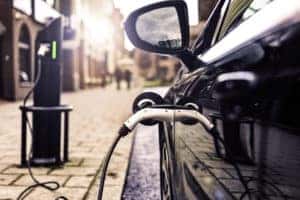 In 1997, Toyota introduced the Prius, the first mass-produced hybrid vehicle available anywhere. Since this groundbreaking invention, Toyota has continued to lead the industry on a quest to achieve increasingly efficient cars and SUVs. Check out the lineup of alternative fuel vehicles from Toyota to help you decide which one is right for you.
Hybrid Vehicles
Hybrids are named such because they feature both a conventional gasoline engine and an electric motor. This delivers incredible fuel efficiency of 50 to 60 miles per gallon, along with impressive get-up-and-go.
Fueling a hybrid vehicle feels exactly the same as a traditional car—you simply make fewer trips to the pump. As for maintaining a hybrid, you follow the same schedule as any other Toyota. You'll appreciate the long-lasting nature of hybrids, which experience less wear and tear than traditional cars, resulting in fewer repairs over the years.
The hybrid vehicles available from Toyota include:
Prius and Prius c
Avalon Hybrid
Camry Hybrid
Corolla Hybrid
RAV4 Hybrid
Highlander Hybrid
Plug-in Hybrids
Hybrid cars run on gasoline and electric power. Plug-in hybrids do the same, but they have another fueling option besides gasoline—they can also be charged by plugging into an electrical outlet. This provides the optimal balance between efficiency and convenience.
On a full charge, the Prius Prime—Toyota's flagship plug-in hybrid—can drive 25 miles. This means, if you mostly travel short distances and plug in the car between uses, you can drive for months without ever refilling the gas tank. At the same time, if you don't have a chance to charge the battery, or you're going on a road trip, no worries—the Prius Prime automatically switches to hybrid driving mode to take you a further 640 miles on a single tank. This truly maximizes the efficiency and performance of your vehicle.
Fuel Cell Electric Cars
Of all the alternative fuels available—including electric/gas hybrid, natural gas, propane, biodiesel, and more—hydrogen is one of the most promising. Toyota's first hydrogen fuel cell electric vehicle, Mirai, gives off zero emissions. It runs on electricity produced by hydrogen, and the only thing that emits from the tailpipe is water. Fueling the Mirai at a hydrogen station only takes five minutes, and the EPA-estimated driving range is up to 312 miles.
Learn More About Alternative Fuel Vehicles from Toyota
If you want to see thousands of alternative fuel vehicles in action, keep an eye out during the 2020 Olympics next summer. Toyota is the official fleet provider during the Games, which will be held in Tokyo.
In the meantime, visit Jerry's Toyota in Baltimore to test drive a new 2020 Prius Prime, or hop behind the wheel of a 2019 RAV4 Hybrid. We're sure you'll be pleased with what you see! For answers to any questions you have, or to schedule a test drive, please visit our car dealership in Baltimore or contact us online today.
_________________________________
Jerry's Toyota – https://www.jerrystoyota.com/ | https://www.jerrystoyota.com/blogs/524/
Baltimore, MD
1957
_________________________________
https://www.toyota.com/tacoma/tacoma-features
https://www.serratoyota.com/clp-2019-toyota-tacoma-vs-2018-toyota-tacoma
https://cars.usnews.com/cars-trucks/toyota/tacoma